About us
Sominis Technology UAB was founded in 2010 in Lithuania and today we act as selling partners of surplus stock across Europe. We are partnering with every distributor we work with and have earned our reputation from the distributors and our retailers that we are a reliable distributor.

Customers
Our customers are global customers, international companies, hardware retailers, retailers, online stores, telecommunications companies and hotel chains. We strive to offer reliable products for a competitive price to our business partners, to organize fast and efficient logistics service worldwide, provide support and product warranty service. If you are interested in a collaboration – do not hesitate to contact us. We help you to make the right choice, which means that you save on your IT costs. By collaborating with international systems integrators, this enables us to secure full IT support, consultations and other IT services for our customers.
Awards
UAB "Sominis technology" was nominated as fastest growing company.
In national "Gazelė 2016" contest UAB "Sominis technology" was awarded with the certificate for:
One of the fastest growing company in Lithuania.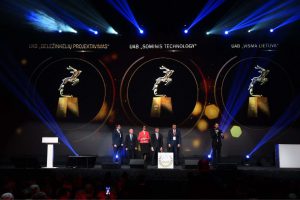 Vladimiro Ivanovo (VŽ) photo
Contact
JSC Sominis technology,
Company code: 302488708,
VAT number: LT100005271719,
Address: Zygio str. 93, Vilnius,
Lithuania, LT-08234
+370 6 85 36058
info@somtechnology.eu
www.somtechnology.eu