Structural growth from digitalisation – one of the major megatrends that shape our future
Wide access to customer channels enables scalability and efficient "goto-market" for the company's product categories
Successful strategy for own brand labels
Reliable business partner, creating a clear place in the value chain
Upgraded and well-invested company managements with constant improvements as part of the culture
Accelerated export and acquisition strategy
STABILITY| FLEXIBILITY | DEVELOPMENT
STRUCTURAL GROWTH FROM DIGITALISATION – ONE OF THE MAJOR MEGATRENDS THAT SHAPE OUR FUTURE
New technological breakthroughs are one of the five megatrends that will shape our future in the coming years. The digitalisation that is taking place through new technologies is changing how we work and live our lives.
DistIT's business has a clear role in digitalisation and has a favourable position when new innovative technology creates growth in several underlying trends such as:
• 5G and 'Internet of Things', the number of connected devices is expected to increase from the current 30 billion to 75 billion by 20252
• The gaming sector is developing with new technologies, such as VR and AR, and E-sports are taking on an increasing role in
many people's lives, as the number of players increased by 5.3 per cent between 2019 and 2020, which means that there are
now approximately 2.7 billion players worldwide3
• The sharp increase in the consumption of streamed video places higher demands on the networks' capacity to create
captivating experiences, for example, internet video is estimated to account for 82% of all internet traffic in 2022, while VR/AR
traffic will increase 12-fold4
• IT's pace of change in companies is faster than ever and what was previously seen as specialist expertise is today a standard
requirement
1) ISFE/Newzoo Global Games Market Report, 2020
2) McKinsey, www.mckinsey.com, "McKinsey Electric Vehicle Index: Europe cushions a global plunge in EV sales", 2020
3) Berg Insight, www.berginsight.com,"Smart Homes and Home Automation", february 2021
4) Kantar Sifo/Tele2, 2020
BROAD ACCESS TO CUSTOMER CHANNELS ENABLES SCALABILITY AND EFFICIENT "GO-TO-MARKET" FOR THE COMPANY'S PRODUCT CATEGORIES
DistIT's offers with niche product categories of own brand labels (OBL) and external brands as well as access to leading customers through both physical and digital channels creates an attractive market position.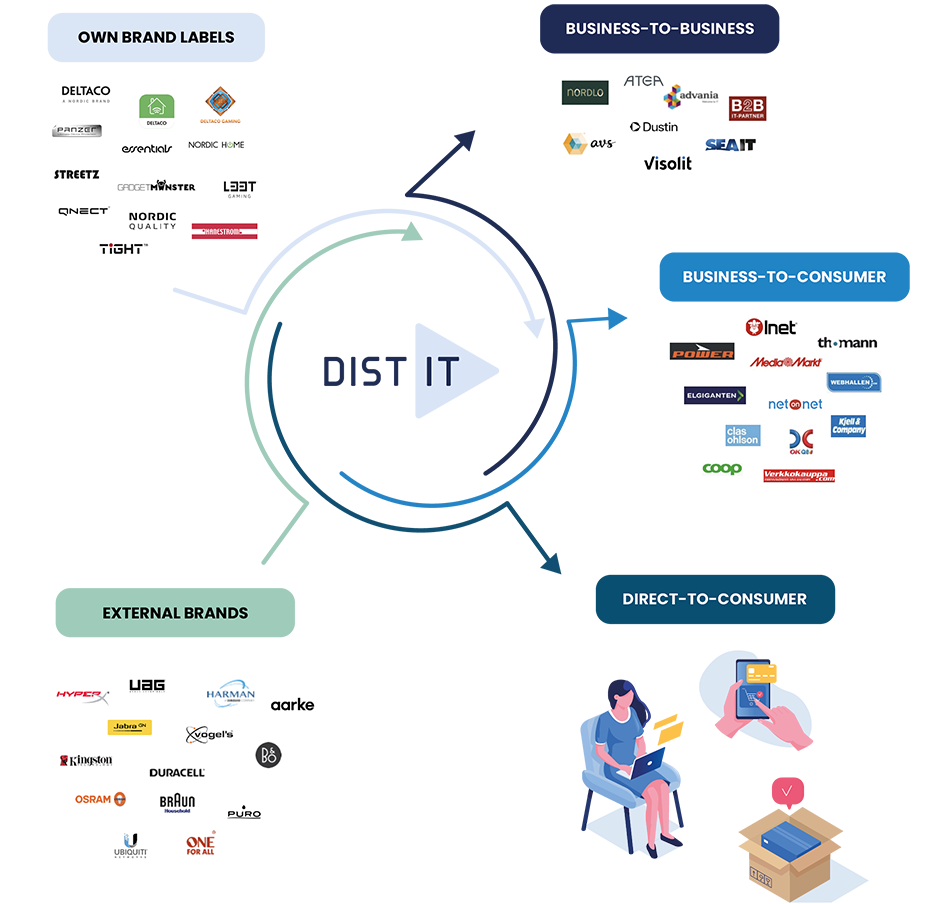 All logos and trademarks are examples and not comprehensive. ~ 30,000 article numbers are delivered to ~ 6,000 active corporate customers and directly to consumers in the Nordic countries, the Baltics and the rest of Europe.
SUCCESSFUL STRATEGY FOR OWN BRAND LABELS
OBL is a strategically important area for DistIT and is found to varying degrees in the offers at Aurora, Deltaco and Septon. Through well-established processes for sourcing and the creation of commercially strong concepts, DistIT can offer its customers unique and profitable products at attractive market prices. The offer of OBL has also been tested in export markets and is ready to be exported outside the Nordic and Baltic countries at an even higher rate.
PRODUCT DEVELOPMENT AND QUALITY
The OBL organisation within DistIT works continuously to identify and create new, or improve existing, products, concepts and brands in line with what the market demands. Own product development on a component level is important for differentiating oneself from other competitors or customers' own OBL projects. The focus in the product development process is simplicity, and that the product or concept shall satisfy the end customer's needs and their expectations regarding functionality, price and quality. DistIT works with a consolidated supplier base, which provides increased purchasing power, fewer contact areas and improved logistics, which together increases the efficiency of the process. Fewer and more carefully selected suppliers ensure a high volume, high level of service, improved and simplified quality control, and lower purchase prices. In addition to the product, everything from packaging design, manuals in different languages, concept documentation and marketing materials are produced internally, which provides good cost control and management in the various projects.
During 2020, DistIT has raised the bar in the choice of products and services, among other things, a product series with SMART HOME products and integrated software has been successfully launched on the market. Furthermore, internal quality control has been strengthened through an improved test lab in Älvsjö with a high-tech XRF scanner, procured to check the quality of incoming products and strengthen the quality work.
The goal for product development is to be innovative and develop unique, test-winning products with good design and attractive packaging, in order to create exclusivity in the markets where DistIT operates. Continuous trend monitoring is a crucial part of the task to be able to quickly launch new products and concepts on the market. The ambition is to launch a new OBL product on the market within six months of making the decision.
ESG RESPONSIBILITY
Environment, Sustainability and Governance are constantly in focus in the work with own brand labels. To protect the environment and meet what customers demand, the OBL organisation has developed packaging that is eco-labelled with FSC (Forest Stewardship Council) and has a design that is in line with what customers demand. The goal is to minimise plastic materials, both in packaging and as packaging materials. Furthermore, DistIT has strengthened sustainability of the supplier level, as the consolidated supplier base makes it possible to collaborate with selected certified suppliers who can ensure sustainable production with good working conditions in the factories. With fewer suppliers within OBL, DistIT has also strengthened the control of the supply of goods, as this means increased traceability, and control of the product flow and quality work.
MARKETING
An important part of DistIT's work with OBL is to build strong brands that customers demand. By continuously working with relevant marketing in both physical and digital channels, product, concept and brand awareness among customers and consumers is accelerated. In 2020, the marketing organisation was strengthened with new leadership and expertise in digital marketing. This has resulted in a number of successful projects, including within the Gaming concept, where Deltaco Gaming has been a partner for online tournaments, and the L33T Gaming brand has become the official sponsor of a professional team within E-sports.
OBL PROFILE
DistIT currently has several own brand labels in different product categories, which are aimed at both companies and consumers. The brand strategy is to have the following profiling, with a focus on volume, quality, megatrends and best-in-test.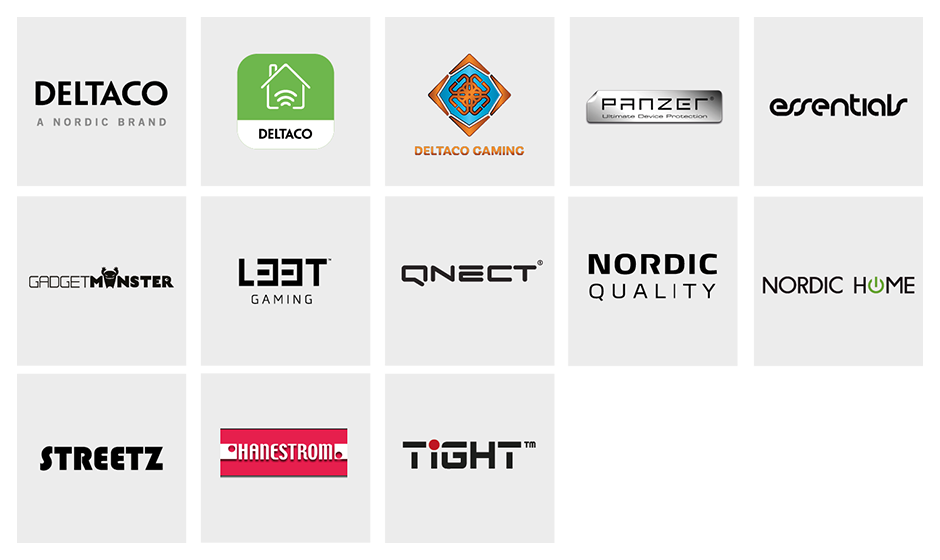 VOLUME
Products and brands at a good price that are included in the volume segment.
QUALITY is an important part of product development work in order to strengthen customers' price and quality perception.
MEGATRENDS
Products, concepts and brands that are in line with megatrends in society.
BEST-IN-TEST
Brands that gain legitimacy by being classified as best-in-test according to relevant media.
NEW OBL CONCEPTS
DistIT currently has several own brand labels in different product categories, which are aimed at both companies and consumers. The brand strategy is to have the following profiling, with a focus on volume, quality, megatrends and best-in-test.
THE CONCEPTS WITHIN OBL ARE IN LINE WITH CURRENT MARKET TRENDS
Accelerated digitalisation and an increased focus on sustainability are clear examples of trends that characterise DistIT's
markets. An important part of the strategy is to develop OBL concepts that meet the demand driven by ongoing megatrends in
society.
RELIABLE BUSINESS PARTNER, CREATING A CLEAR PLACE IN THE VALUE CHAIN
5) BlackRock, www.blackrock.com, "Megatrends research study", 2019
6)Statista, Internet of Things (IoT) Connected Devices Installed Base Worldwide from 2015 to 2025
7)Newzoo Global Games Market Report, 2020
8)Cisco, "2020 Global Networking Trends Report",
UPGRADED AND WELL-INVESTED COMPANY MANAGEMENTS WITH CONSTANT IMPROVEMENTS AS PART OF THE CULTURE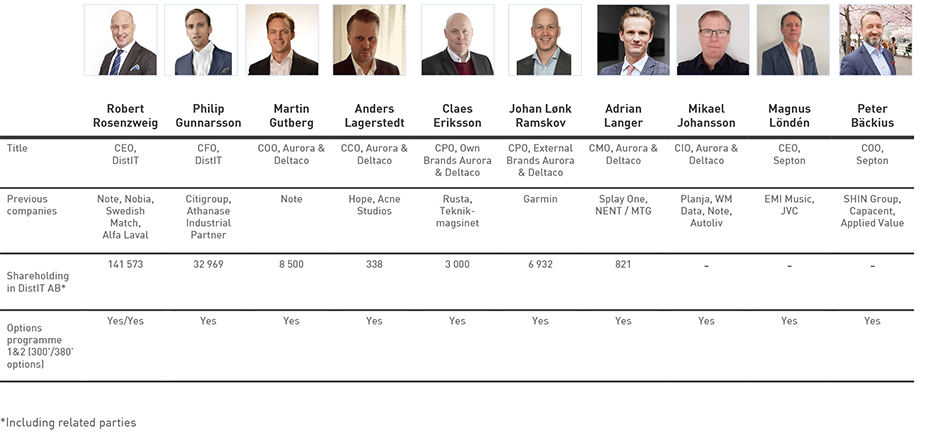 ACCELERATED EXPORT- AND ACQUISITION STRATEGY

EXPANSION IN MARKETS OUTSIDE THE NORDIC AND BALTIC COUNTRIES
• The product range within own brand labels (OBL) is compatible for export in Europe
• Increased focus on exports through recruitment of key expertise
• Momentum in export sales during 2020 with ~ MSEK 30 in sales
ACTIVE ACQUISITION AGENDA WITH A FOCUS ON THE NORDIC REGION AND THE REST OF EUROPE
• Acquisitions are a natural development of the expanded export strategy and local players are continuously evaluated
• Acquisition strategy that focuses on a couple of segments:
Distribution – access to new markets
Product – add brands to the OBL portfolio
• Financial position that enables acquisitions